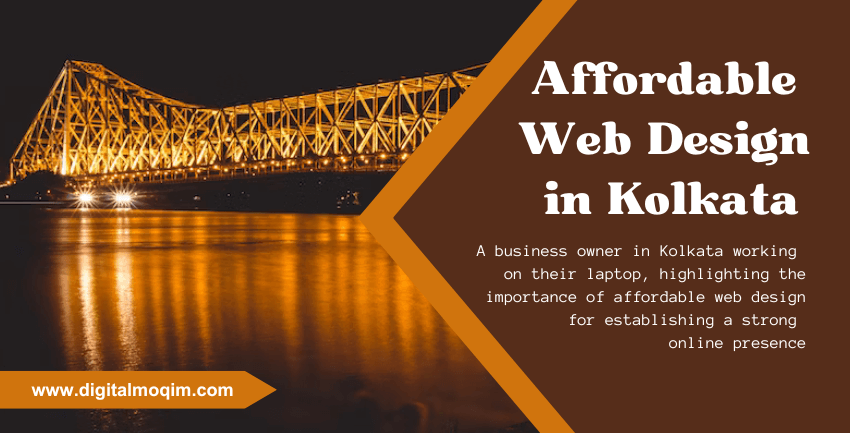 Affordable Web Design in Kolkata Unlocking Online Success with Digital Moqim
In the bustling city of Kolkata, businesses of all sizes are realizing the importance of having a strong online presence through well-designed websites. However, finding a reliable and affordable web design company can be a daunting task. With the increasing reliance on the internet for information and services, a website acts as a virtual storefront, offering businesses an opportunity to connect with potential customers on a global scale. Whether it's a small local business or a large enterprise, having an appealing and functional website has become essential for survival and growth in today's digital landscape.
However, the challenge lies in finding a reliable and affordable web design company that can fulfill the unique needs and budgetary constraints of businesses. Kolkata, being a thriving metropolitan city, is home to numerous web design agencies, each with its own set of services, expertise, and pricing structures. This abundance of options can make the task of selecting the right web design company a daunting one.
Businesses need to consider several factors when searching for an affordable web design company in Kolkata. They must strike a balance between cost-effectiveness and quality, ensuring that the chosen agency can deliver a website that meets their expectations and helps them achieve their online goals. Additionally, reliability and trustworthiness are vital considerations, as businesses need a partner they can rely on to deliver projects on time and within budget.
Fortunately, amidst the numerous choices, there are web design companies like Digital Moqim that stand out for their reliability, affordability, and quality of services. These companies understand the unique challenges faced by businesses in Kolkata and offer tailored solutions to meet their specific requirements. By providing cost-effective web design services without compromising on quality, these companies bridge the gap between affordability and excellence.
Businesses can benefit greatly from working with an affordable web design company in Kolkata. Such companies understand the local market dynamics, the needs of businesses in the area, and the importance of a strong online presence. By choosing an agency that offers competitive pricing, businesses can allocate their resources effectively while still obtaining a professionally designed website that reflects their brand and appeals to their target audience.
In conclusion, the importance of a well-designed website for businesses in Kolkata cannot be overstated. However, finding a reliable and affordable web design company can be a challenging task. With the growth of the digital industry in Kolkata, businesses must carefully evaluate their options, considering factors such as cost, quality, reliability, and expertise. By selecting an affordable web design company like Digital Moqim, businesses can confidently establish a strong online presence and thrive in the competitive digital landscape of Kolkata.
The Value of Web Design:
Before delving into affordable web design options, it's crucial to understand the value that a well-designed website brings to a business. A website serves as the online face of a company, representing its brand, products, and services to a global audience. A professionally designed website not only enhances credibility but also creates a positive user experience, leading to increased conversions and customer engagement.
Digital Moqim: A Leader in Affordable Web Design:
When it comes to affordable yet high-quality web design in Kolkata, Digital Moqim is a name that stands out. They have successfully carved a niche for themselves by offering budget-friendly web design solutions without compromising on quality. Here's why Digital Moqim deserves recognition as a top web design company in Kolkata:
Customized Solutions at Affordable Prices:
Digital Moqim understands that each business has unique requirements and budgetary constraints. They work closely with clients to create tailored web design solutions that align with their specific goals and budget. Whether you need a simple brochure website or a complex e-commerce platform, Digital Moqim offers cost-effective options without compromising on functionality or aesthetics.
Exceptional Design Expertise:
Digital Moqim takes pride in its team of skilled web designers who stay abreast of the latest design trends and technologies. They combine creativity with technical proficiency to deliver visually appealing websites that leave a lasting impression on visitors. From engaging layouts to intuitive navigation, Digital Moqim's designs are optimized to enhance user experience and drive conversions.
Emphasis on User-Centric Approach:
Digital Moqim places great importance on understanding the target audience and aligning the design with their preferences. They conduct thorough research to identify user behavior, ensuring that the website is intuitive, easy to navigate, and visually appealing. By focusing on user-centric design principles, Digital Moqim helps businesses create engaging digital experiences that resonate with their customers.
Commitment to Client Satisfaction:
Digital Moqim prioritizes client satisfaction above all else. They believe in transparent communication, timely project delivery, and a collaborative approach. Their team works closely with clients, providing regular updates, incorporating feedback, and ensuring that the final product meets or exceeds expectations. This customer-centric approach has earned them a reputation for excellence and reliability.
Affordable web design in Kolkata is no longer a distant dream, thanks to companies like Digital Moqim. Their commitment to delivering top-notch web design solutions at affordable prices makes them a standout choice for businesses of all sizes. By leveraging their expertise, creativity, and user-centric approach, Digital Moqim helps businesses unlock online success and establish a compelling digital presence. When it comes to affordable web design in Kolkata, Digital Moqim is undoubtedly the top web design company to consider.